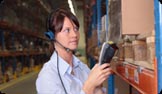 RETAIL / COST
SIS will count all merchandise at retail by department and / or section. Totals will be available at the completion of the inventory. Inventory can also be calculated at cost given the gross margin percentage provided from the customer.
BUY / SELL
When selling or buying a store an outside service is always recommended to receive an impartial count of inventory. The inventory is taken in the same fashion as a retail / cost inventory and the buyer and seller agree on the gross margin percentage.


HOURLY COUNTERS
Professional SIS counters are sent to your location to help assist in inventory counting. This service is generally used in warehouses where bulk counting is needed. There is usually an hourly rate that applies for this service.




We are so confident that you will be impressed with our service that we are willing to give you something!


SIGN UP FOR FREE INVENTORIES!
Sign-up for monthly / quarterly inventories with us and we will give you your second month absolutely FREE. No matter how many locations you have we will perform your second inventory free of charge, You give us a month to try it out and in return we give you a month at no charge

Request Special Offer